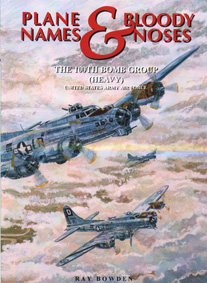 Plane Names & Bloody Noses
100th Bomb Group (Heavy)
ISBN 1 898575 01 0
Named and painted B17 Flying Fortresses their crews, their service and their nose art
'Ain't Mis Behavin' to 'Yo Yo Buddy'
Listing of 306 combat missions for 100BG
Crew lists for 120 named planes covered in the book and listed as Missing In Action

296 pages, 380+ black/white photographs
Hard cover with full colour dust jacket

Click here to download an
ORDER FORM
---

These were the planes flown by the men who lived and died in the creation of the legend of the 100th Bomb Group. Men talked of the exploits and misfortunes of the group in every far corner of the globe. This, so it was said, was the unit singled out by the Luftwaffe for special attention. With every telling of the tale the legend grew and, as with most legends, it was founded in truth.

Amid the horror of war, emblazoned on the machines of destruction there was often to be found beauty, humour, poignancy and wit. It was no different at Thorpe Abbotts -- home of the group dubbed as "The Bloody Hundredth" or "The Vanishing Americans." Many of the Flying Fortresses based at Station 139 carried nose art or names. The glamorous, flamboyant pin-up so often associated with noseart resided alongside the cartoon, the sentimental and the sometimes outrageous image. Some crews made do with simply lettering while others, full of intent, could find no-one to paint their plane. Instead, the name so lovingly or irreverently bestowed had to be carried from Fort to Fort in the minds of men, or painted onto the backs of their A-2 leather jackets.

Whether decorative, witty, poignant or mischievous all had their tale to tell. Selected at random by a ruthless Fate to be destroyed in an instant flash of brilliant orange, to plunge into a cold dark sea, to lay crippled and broken and be ravenously dismembered by friend or foe alike. Or revel in a fanfare of glory and return home to wait in silent rows for reincarnation in a world at peace.