CLICK ON
IMAGE FOR
ENLARGEMENT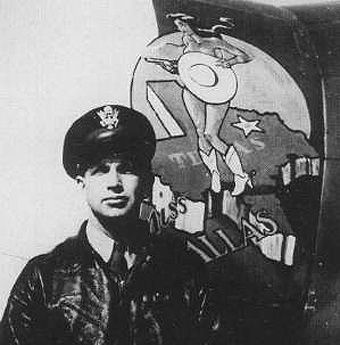 S/Sgt Don E ALLEN
4th Fighter Group, 334th Fighter Squadron
Debden, England
Having graduated from Cleveland School of Art in 1941, where he majored in illustration, Don Allen started work in drafting before joining the USAAF in February 1942 to train as an engine and airframe mechanic. Although trained on B17s, Sgt Allen was assigned to 4th Fighter Group's Spitfires on arrival in England and worked with British crews at Debden. By March 1943, 4FG had replaced its Spitfires for P47 Thunderbolts and Sgt Allen became crew chief to Lts Pisanos and Stanhope. His first nose art was for Lt Aubrey Stanhope and portrayed a black panther with a fleur-de-lis, to honour Stanhope's French mother.
Allen's next pilot, Vic France, wanted "Miss Dallas" for his plane's title and the artist obliged with a design which became one of his own favourites. When the 4th Fighter Group exchanged its Thunderbolts for Mustangs a similar design was painted onto Lt France's new P-51B but this plane was ditched in the sea and lost soon after the completion of its nose art. Don Allen completed at least 39 nose art designs, several being painted on P47s and then repeated later on P51 Mustangs. As many as 16 additional airplanes were painted with only titling. Although many pilots requested nudes for their nose art embellishment, Allen insisted on a little more decorum. His sexy pin-ups were never blatant or crude and always covered -- albeit sparingly. Although inspired by Vargas, Petty and Elvgren his profilic imagination ensured original images that were not copied from magazine or calendar illustrations. His cartoon work was bold, colourful and apt. The average charge levied for his illustrative work was 8 Pounds (roughly $35 during WWII) but just 5 Pounds for lettering alone.
After the war he returned to the world of advertising and commercial art, rising to become corporate President. In recent years, Allen painted many of his wartime nose art designs again, following as closely as possible the originals produced almost half a century earlier. Better paint and working conditions almost certainly produced brighter crisper images than the originals which had been produced using paint scrounged from hangars -- blue, red, zinc chromate, primer, black, etc, and lacquer which dried too fast to achieve the smoothest of finishes. These beautiful reproductions were donated to AMC Museum, Dover, Delaware to be viewed by future generations.