CLICK ON
IMAGE FOR
ENLARGEMENT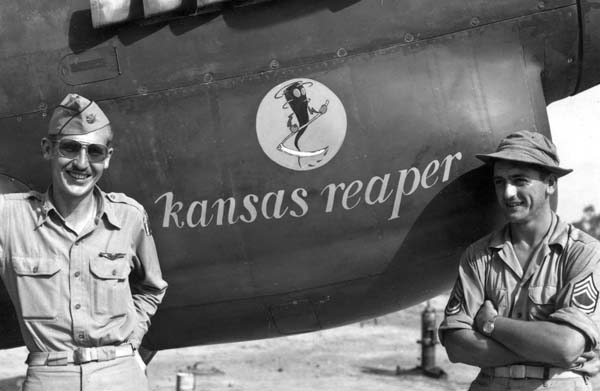 Lt Phil DICKEY Jr
23rd Fighter Group, 118th Tactical Reconnaisance Squadron
Guskhara, India and Kweilin & Chengkung, China
Phil Dickey Jr became the 118th Tactical Reconnaissance Squadron's Armaments Officer and he was responsible for many nose art insignia for the squadron's P40-N Warhawks and later their P-51 Mustangs. The P-40s were embellished while the unit was headquartered at Guskhara in India and tasked with airfield defence and escorting B-29s over the "Hump". He also developed a black lightning flash for the squadron's tail fins and this design was modified later with the addition of a yellow outline for added visibility. Later the lightning flash spanned the whole length of the engine sides when they re-equipped with P51 Mustangs whilst in China, actually F-6C photo recon variants.
Post-war, when the unit became a National Guard outfit the "black lightning" insignia was retained. In 2003, when the squadron celebrated their 80th Anniversary the "black lightning" flash was painted onto their A-1O Thunderbolts.
Born in Denver, Colorado, Philip Armour Dickey Jr grew up in Ponca City, Oklahoma and was always drawing and sketching, perfecting his talent with the help of a local artist/photographer. He initially joined the Oklahoma National Guard in 1930s and when war broke out attended OCS before joining the 118TRS at Key Field, MS. In August 1945, Dickey was promoted to Captain and became the 23rd Fighter Group's Armament Officer. After the war, he continued to serve in Korea, Indo-China, Germany and Vietnam until retiring in 1972 as Inspector General.
? Ray Bowden